This post contains affiliate links
Download my FREE 7 Day Whole 30 Meal Plan
All of the meals I have developed are tasty and leave you feeling satisfied and not deprived. You can find all the recipes on my Instagram page @healthylittlepeach or I have a most of them posted on my recipe page, here. My plan is designed to where you will only need to purchase 3 main types of meat. You will use these to create new and exciting meals all week. There will be days you can take leftovers for lunch or breakfast to make life easier. Feel free to pick and choose however you would like, take what I have developed and make it work for you!
Download my FREE 8 Successful Tips for Whole 30
FREE Whole30 Weekly Grocery List Template
I have designed two FREE grocery forms that will help keep you organized and ready for the week ahead. The first template is really simple and has a dinner menu along with a grocery list guide. The second form includes a lunch and a dinner menu option with a grocery list guide. Hopefully, these templates can support your weekly meal planning goals and hold you accountable for an awesome week, every week.
FREE Easy Meal Option Template
This Easy Meal Plan template gives you different ideas for
Whole30
compliant breakfast, lunches and dinners that are all easy for busy life. In addition, I have listed my favorite emergency foods. Download this great resource for FREE.
FREE Whole30 Pregnancy Mini Meal Template
Pregnancy is a beautiful journey. Don't start and end with poor nutrition. The
Whole30 Healthy Mama Happy Baby
program will give your baby and body the very best. Grab this free mini meal template that will help you and your baby get optimal nutrition during your 9 month journey.
FREE Whole30 Aldis Shopping List (Click the picture for FREE download)
Whole30 is an amazing program that doesn't have to break the bank. Living Paleo and Whole30 can be very enjoyable and affordable when shopping at Aldis. My goal as a mother is to provide my family with high quality food that not only aligns with our budget, but that is also delicious and nutritious. Shopping at Aldis has made eating healthy both cost-effective and simple. Don't let their low prices fool you. Their mission to deliver top-notch ingredients/food at discount prices are now helping families all across the world.
FREE Whole30 Sams's Club Shopping List (Click the picture for FREE download)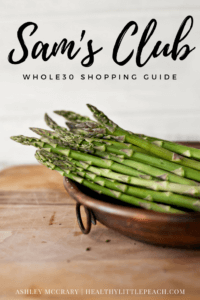 I have assembled an amazing FREE Sam's Club Whole30 Shopping Guide that you can print and take with you on your shopping trip . My FREE guide includes all the items I buy and love. There are probably a lot more complaint foods you can find, but these are just the ones I use consistently. Make sure to always read your labels and follow the "Additive Cheat Sheet" that is attached in my guide. This information comes directly from the Whole30 program rules.
I have made a 14 page guide that you can print off and take with you to help make your grocery shopping trip less stressful.
FREE Whole30 Amazon Shopping List (Click the picture to be directed to Blog Post)
Who doesn't love Amazon Prime? I am beyond obsessed. My husband told me the other day that I am one click away from getting my account deleted. Sometimes I am a bit out of control, but it can be so helpful when you don't have Whole30 staples available in your local grocery stores. Amazon offers a wide variety of Whole30 items that are easily accessible and can be delivered right to your door without the hassle of searching for every single compliant item at 15 different stores.